Become a Corporate Partner
Thank you for your interest in partnering with Alpha Kappa Psi, a distinguished professional business fraternity at the University of Virginia. As the largest student business organization on campus, Alpha Kappa Psi can serve as a unique liaison between your firm and the students of University of Virginia. We can help your company strengthen its presence at the University and assist in effectively finding the most qualified candidates for employment at your company. Our relationship can help you organize information sessions, career fairs, and various other events that involve University students. With our experience in a wide range of campus events, we can help you reach out to students through any method of your choice.
Feel free to contact the Vice President of Professional Events if you are interested in any of our sponsorship packages or have any questions.
Sincerely,

Winnie Tsao
Vice President of Professional Events wyt4fg@virginia.edu
Our Corporate Partners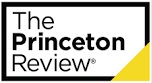 The Princeton Review offers test preparation for standardized tests including SAT, ACT and graduate school entrance exams. The Princeton Review provides online and in-person tutoring and test prep from top-notch educators as well as more than 150 books that give test prep help to college admissions advice.